JJ Knight and Casey Jacks Premiere 'Service Me!' on FalconStudios.com
FalconStudios.com has announced the exclusive world premiere of the debut scene from their latest release, Service Me!. The first scene from the upcoming feature sees exclusive JJ Knight and Casey Jacks in a homeowner/plumber scene with a naughty twist featuring sex with a handsome home service provider. The debut update from Service Me! goes live on FalconStudios.com on April 13, 2018, followed by the release of the DVD and scene downloads on the Falcon Studios Group Store on April 20, 2018.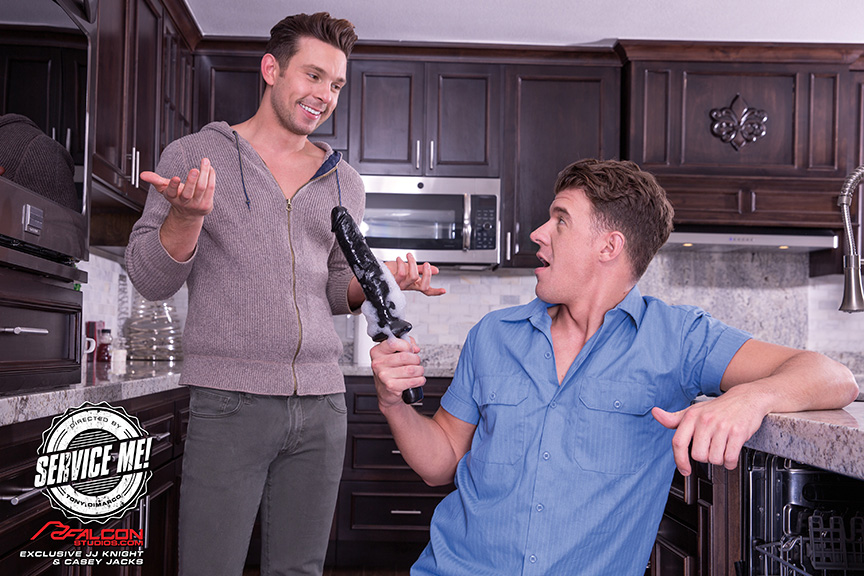 Homeowner Casey Jacks calls over plumber JJ Knight to fix a leak with his dishwasher. JJ identifies the problem as a giant manrammer stuck in the appliance. JJ Knight comments how big the dildo is and wants to offer Casey the real thing. Casey doesn't resist so JJ whips out his 10-inch cock and Casey gets to work taking it down his throat. Casey makes sure to cover every inch of JJ's huge dick but wants more. He hikes his leg up on the kitchen counter, so JJ can have complete access to rim his crack. JJ warms Casey up a little more switching from his tongue and his fingers to get the stud ready for the giant cock he's about to receive. When JJ feels Casey is lubed up and ready, he stuffs his rod deep into Casey's hole. Casey wants it even deeper and gets on the counter top on all fours to let JJ pound away from behind. Craving even more, Casey gets on his back and strokes his cock while JJ thrusts away. With JJ's cock deep inside of him, Casey oozes his load onto his smooth abs. The sight of Casey below covered in cum makes JJ blast his jizz all over the stud's face.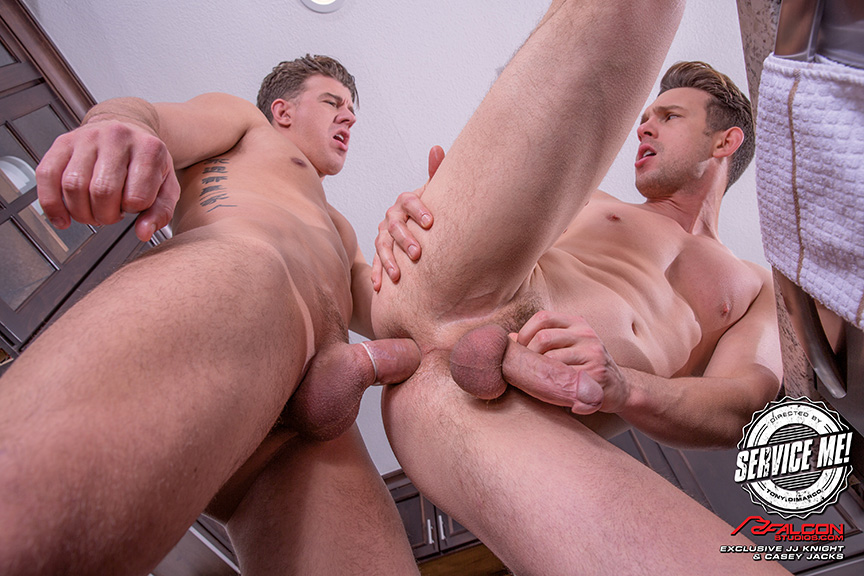 "The debut scene for Service Me! has hunky guys, great acting, amazing sex, and a funny storyline," said director Tony Dimarco. "Having the plumber find a 10 inch Manrammer clogging your dishwasher isn't something a lot of people would want to admit to happening but it's hilarious and could potentially lead to the same ending as this scene. Plumber sex is a ubiquitous fantasy and as long as we have indoor plumbing, that fantasy isn't going anywhere."
FalconStudios.com, featuring over 2,500 amazing gay adult scenes, and the World Premiere of the Service Me!' scene starring exclusive JJ Knight and fan favorite Casey Jacks, is available for promotion through the Buddy Profits affiliate program.