RagingStallion.com Kicks Off 'Raw Construction' with Epic Threeway

RagingStallion.com, the Falcon Studios Group site featuring natural men, announced the release of the debut scene from its latest bareback feature, Raw Construction. Award-winning director Steve Cruz shoots as all-natural studs Ricky Larkin, Kurtis Wolf and Jaxx Thanatos fuck raw on the job. The first scene will go live on RagingStallion.com on Friday, February 15, 2019. The full DVD and remaining downloads will be available the following Friday, February 22, 2019, on the Falcon Studios Group Store.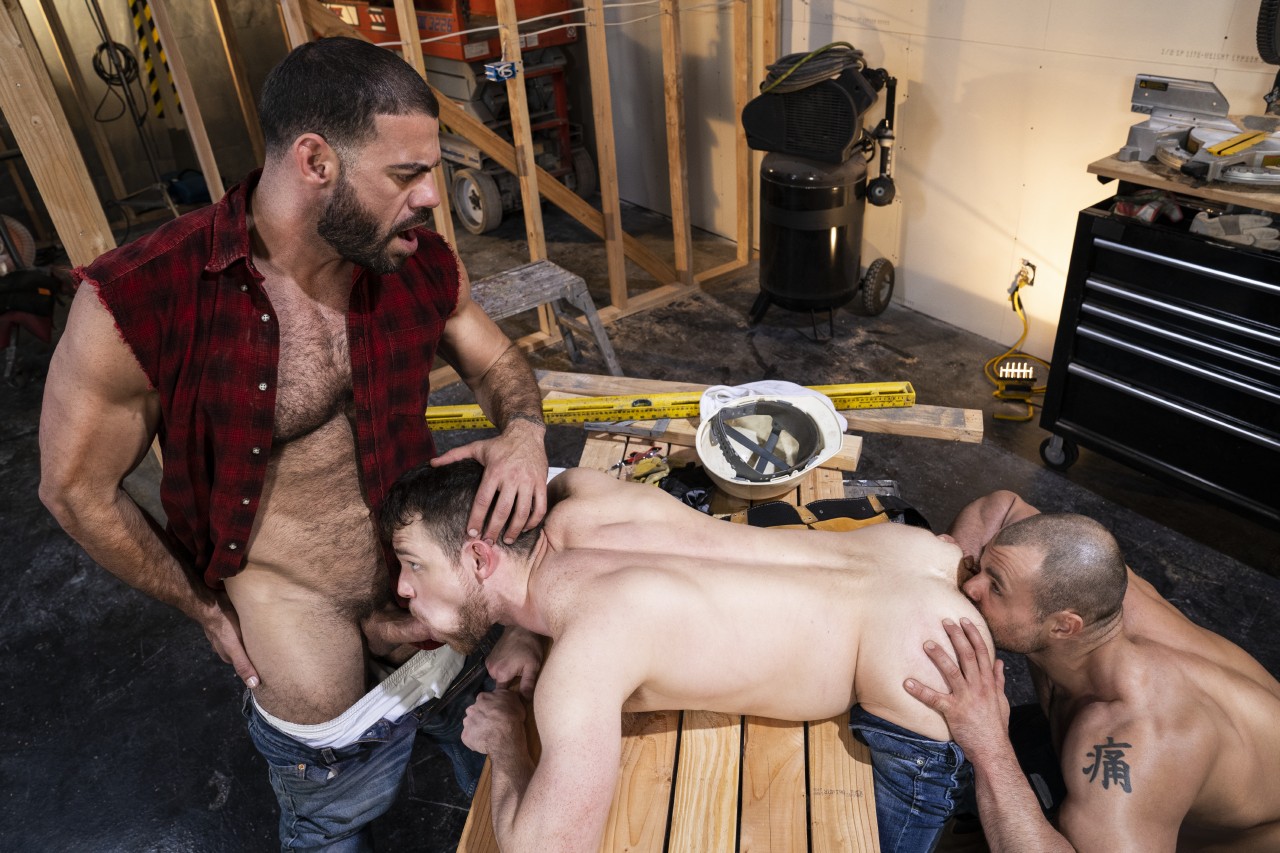 In the debut update, Ricky Larkin and Jaxx Thanatos are out on a construction site with new hunk, Kurtis Wolfe. Ricky and Jaxx like what they see and surround Kurtis to properly welcome him to the work site. Jaxx gets Kurtis down on the workbench as Ricky pulls down his pants and shoves his hard cock into Kurtis' face. Kurtis is hesitant at first, but soon warms up and realizes he loves getting his body used by his two hunky co-workers. Jaxx wants in on the action and peels off his clothes to get behind Kurtis. Jaxx opens Kurtis' cheeks and plants his tongue as Kurtis keeps sucking Ricky's hard cock. After Jaxx gets Kurtis opened up, Ricky decides to take the next step and shove his raw dick into Kurtis' hairy ass. Jaxx and Ricky switch sides with Jaxx up front as the studs spit-roast Kurtis. Seeing Kurtis getting plowed from behind makes Jaxx eager for cock himself and bends over to let Kurtis fuck his hole. Kurtis isn't done getting fucked yet, though. He still wants Ricky inside of him and the three form a fuck-chain with Kurtis in the middle. Kurtis can't get enough dick and lies back on the bench to let his new co-workers take turns tag-teaming his hole. Kurtis loves the feeling of the studs plowing in and out of his ass and cums hard as Ricky blows his load in deep Kurtis' ass. The sight of Ricky's jizz leaking out of Kurtis makes Jaxx ready to blow and he sticks his dick into the gooey mess to finish himself off leaving Kurtis filled with two massive loads of cum.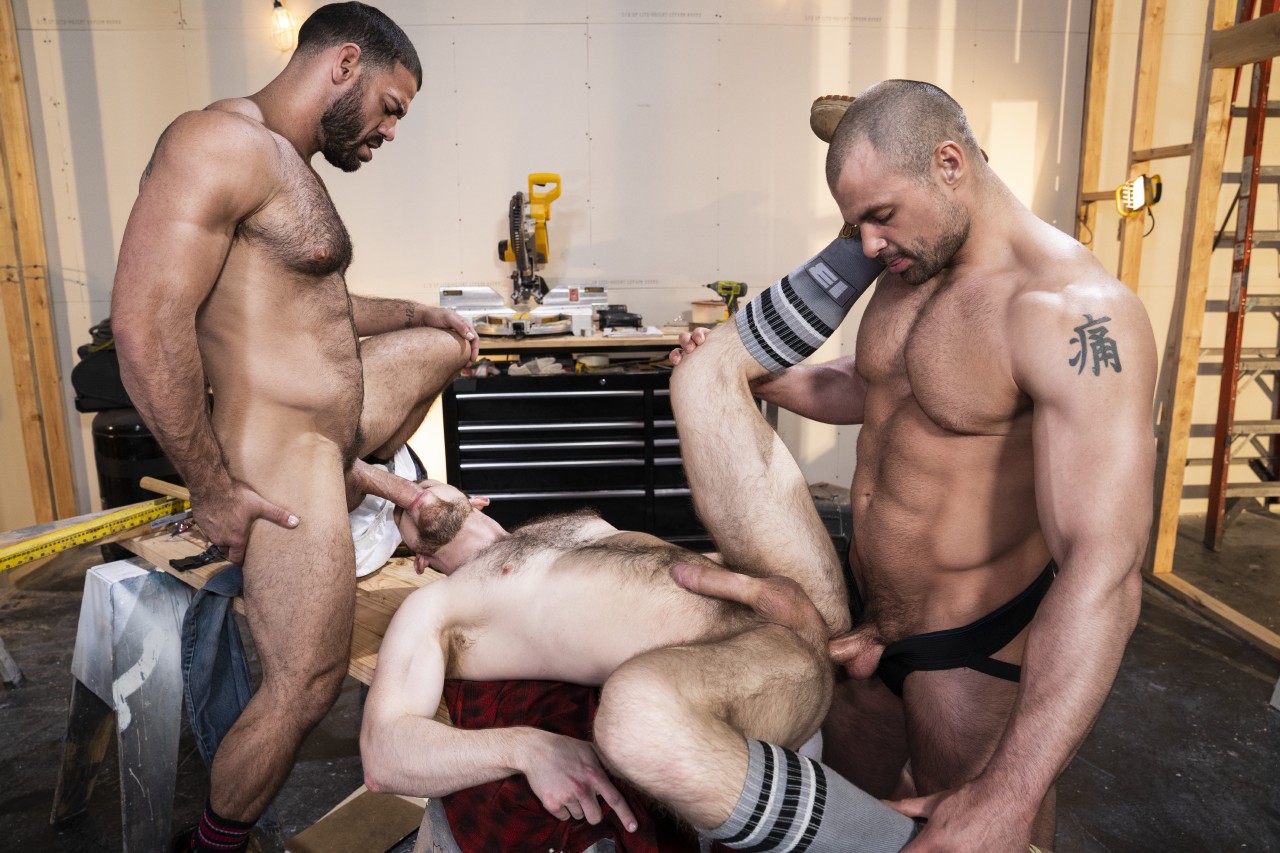 "This three-way is off the charts. Ricky Larkin and Jaxx Thanatos were relentless with Kurtis Wolfe, great fuck chemistry there." said director, Steve Cruz. "So much bare sweaty dick action, I had a hard time behaving. Yes hard time is what I meant to say. My favorite was the train!"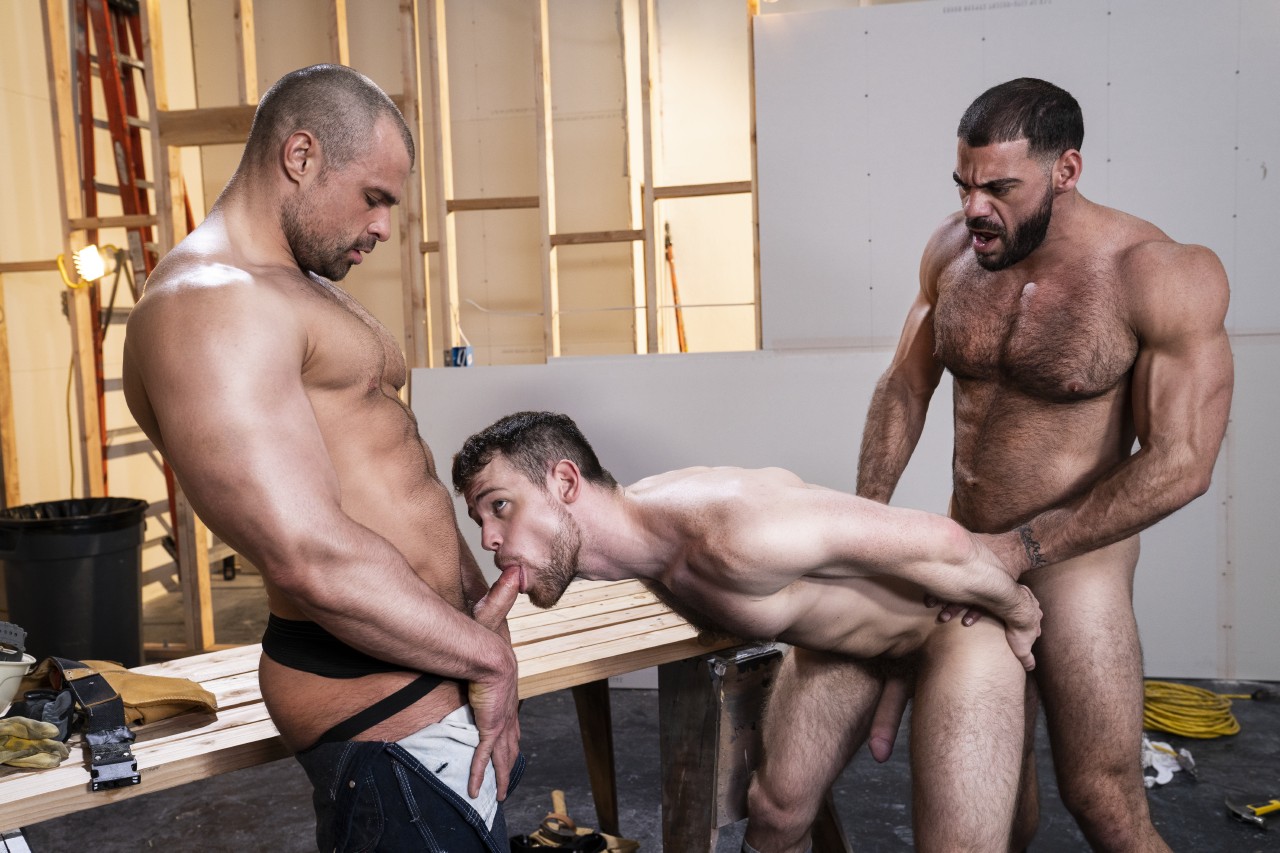 PREVIEW THE SCENE BELOW!