Cole Connor Makes Gay Porn Debut as Falcon|NakedSword Exclusive

Hunky New Star Premieres in Raging Stallion's 'SCRUM' Next Week
Falcon|NakedSword revealed today that it has added gay porn newcomer Cole Connor as an exclusive model. Signing on to appear exclusively in Falcon|NakedSword features over the next year, Connor has officially been added as a contract star for the world's most prolific producer of quality gay male adult video.
Connor will make his gay professional porn debut in SCRUM, Raging Stallion's intense rugby locker room all-sex feature in an award-worthy, raw three way premiering on RagingStallion.com, Friday, February 19, 2021.
With steely, penetrating blue eyes, salt and pepper hair and a ripped, athletic physique dusted with the perfect amount of body hair, Cole Connor ranks high among the hottest men to ever be introduced to gay porn fans. A truly versatile performer with a thick, sizable, cut cock and stacked ass, this 5'10" hunk weighs in at a solid 185 pounds. A natural when he gets in front of the camera, Connor celebrates his sexuality, and brings 100% authenticity to his performances. The chemistry is real, because he loves sex, and he loves men.
Director Tony Dimarco discovered Cole Connor on Twitter in a fan site clip and reached out to gauge Connor's interest in appearing in studio porn. Connor reacted favorably, and Dimarco thought he was a perfect fit for the project was casting, Raging Stallion's SCRUM. Dimarco knew, the second the cameras started rolling, that Cole was exclusive material, and shared photos and footage with Tim Valenti, Falcon|NakedSword President. Dimarco and Valenti agreed, Cole Connor should be signed ASAP, and an agreement was quickly reached.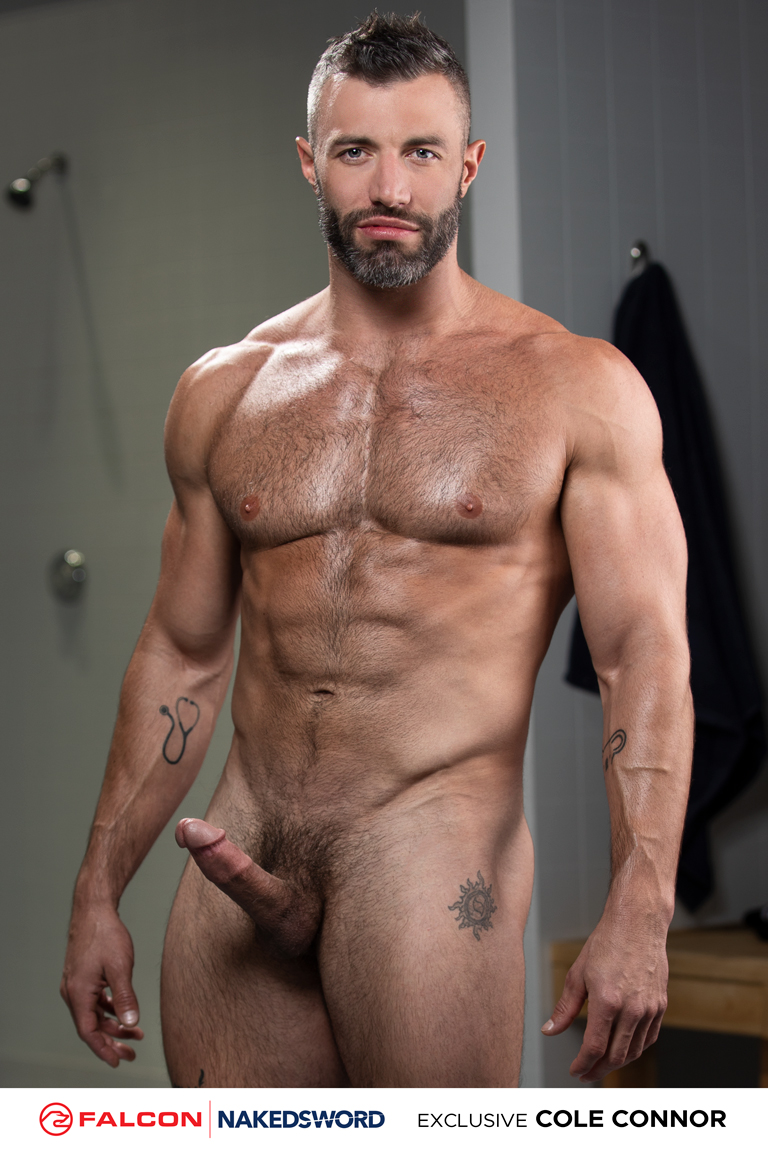 "Not only is Cole Connor naturally handsome and exceptionally endowed head to toe, he's a sincerely genuine and charismatic man, as well as a sensationally dynamic on-screen talent, who puts his all into celebrating the hot action in his performances," states Valenti. "We are excited to have Cole represent Falcon|NakedSword as an exclusive, and we can't wait for fans to see his pro porn debut, so they can experience his energy, charm and sexual freedom firsthand. His premiere scene in 'SCRUM' is guaranteed to have fans begging for more. Trust me; it's outstanding!"
"I have always been a HUGE porn fan. In my early years of watching gay porn, I always thought the men of Falcon|NakedSword were so sexy, and I wanted to not just look and have sex the way they did/do, but experience passion, closeness, and sexual freedom in a way I hadn't been exposed to in real life," states Cole Connor. "I am so excited to join Falcon|NakedSword as an exclusive model, and I hope to be, for some gays, an example that it is an amazing, beautiful, and positive thing to be able to express yourself sexually. Oh, and I guess it's pretty cool that I get to work with guys on whom I've had porn crushes for years!"
Originally from Lexington, Kentucky, Cole Connor grew up competing in gymnastics, soccer, swimming and track. Currently he lives in Los Angeles, where he runs a personal training/coaching business that he started over 10 years ago. When he's not on a porn set or working with his clients, he loves the adventure of traveling around the world and experiencing new cultures.
Cole Connor is available for interviews and appearances. Booking inquiries can be made through Falcon|NakedSword VP Marketing, Toby J Morris, (toby@falconstudios.com). To learn more about Cole, fans can follow him on Twitter: @coleconnorxx and on Instagram: @captaincoleconnor