RAGINGSTALLION.COM PREMIERES HIGHLY ANTICIPATED RIDE OR DIE WITH ONE-TWO PUNCH MARCH 10 & 11

Raging Stallion Studios today announced its two-episode premiere of its groundbreaking, nine-episode original action-drama, RIDE OR DIE, March 10 and 11 on RagingStallion.com. A groundbreaking, first-of-its-kind, scripted dramatic narrative series directed by award-winner Tony Dimarco and written by talented scribe Ben Rush, RIDE OR DIE promises to be one of the most-watched and celebrated gay porn productions ever released. The series warns fans to "Trust nobody, and question everything."
The debut scenes of RIDE OR DIE, introduce the rich, famous and powerful men of Las Vegas who all appear to have an unlikely connection to Riders Correctional Facility, the twisted playground of a diabolically sadistic warden, Cole Connor. High stakes and higher sex drives fuel this explosive original series that goes for the throat and doesn't let up until the very last frame. As secrets begin to unravel and lies surface at every turn, justice becomes the biggest crime of all.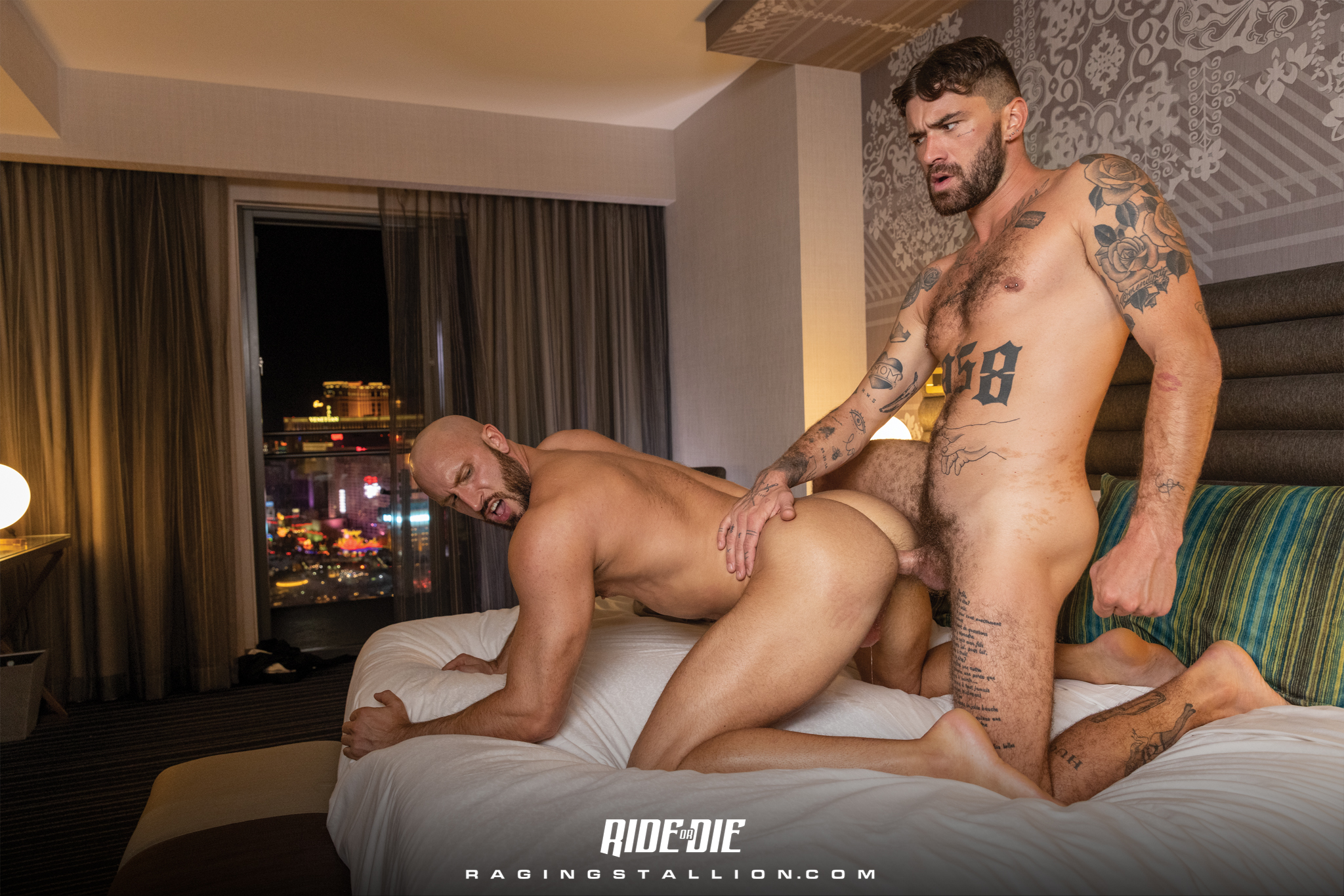 EPISODE 1: WHEN THE GOING GETS ROUGH starring Chris Damned and Travis Connor will kick off the series on Thursday, March 10. In the debut, deranged prisoner Chris Damned – a pawn in the diabolical warden's sex trafficking scheme – is delivered to shady District Attorney Travis Connor's luxury Las Vegas penthouse, a rehash of an old feud is about to go down. But not before Travis does. What payback will Chris unleash on the corrupt DA?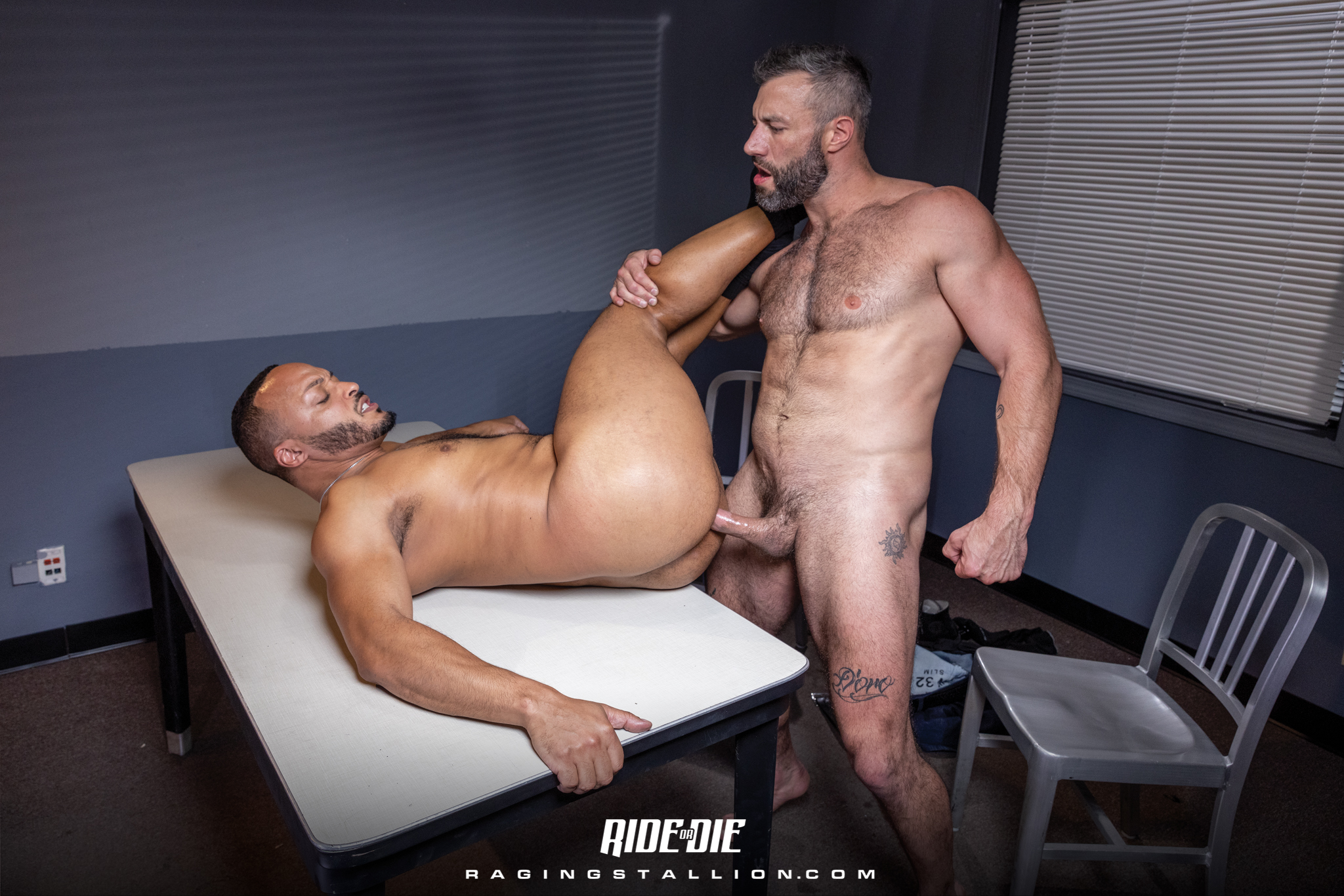 EPISODE 2 – BREEDING GROUND, featuring Cole Connor and Dillon Diaz, with appearances by Trenton Ducati and Chris Damned, goes live on Friday, March 11. The moment Warden Cole Connor of Riders Correctional Facility gets word of Chris Damned's outburst with the DA, he arranges a private meeting with the aggressive inmate and his top guards. In a cold interrogation room, he demonstrates on Officer Dillon Diaz the correct way to please the wealthy men who pay to fuck his inmates. In the midst of the action, Governor Max Konnor calls the warden requesting an urgent meeting. How will Dillon handle getting dicked down by the warden, and what is so urgent that the Governor needs to meet with Cole ASAP?
"Raging Stallion, under President Tim Valenti, continues to be an innovative studio in terms of content and production. Greenlighting and championing RIDE OR DIE is a real testament to the company's cutting-edge sensibility," said award-winning filmmaker Tony Dimarco. "Making RIDE OR DIE was an amazing experience. Great writing, layered performances and a stellar crew contributed to what I consider some of my best work, and I'm so proud of the achievement."
President and CEO Tim Valenti adds, "Some of the industry's leading creative forces came together to produce this hardcore action-drama series, and I'm excited that fans will finally be able to experience RIDE OR DIE. Director Tony Dimarco and screenwriter Ben Rush, along with a stunning, talented cast and a fantastic crew, have delivered a high-octane episodic series event that takes all-male adult entertainment to a whole new level. RIDE OR DIE lives at the intersection of propulsive storytelling and amazing sex, so prepare to be both riveted and stimulated in a whole new way."
Subsequent episodes for Part 1 (Episodes 3-5) will release each week through April 1. Part 2 (Episodes 6- 9) begins releasing weekly on April 22.
Fans can see the episode schedule on the dedicated, fully-loaded mini-site, where they can download free bonus material, watch the full-series teaser trailer, meet the cast and characters, and enter to win one-of-a-kind, exclusive memorabilia and porn prizes. Each week, new bonus material will be added, and fans will have new opportunities to earn more entries into the sweepstakes.